Don't miss out!
The conference starts in:
Jim Hogan, Vice President in Accessibility in Technology, Google
Jim Hogan is an innovator, a human rights activist, and a strong representative of what is possible for autistic individuals. Jim found his passion for computer science and innovation at a young age and has since worked in leadership positions for over 30 years. Throughout his career, Jim has advocated for neurodistinct employees by helping human resources departments better understand their needs. With his powerful voice and advocacy for acceptance, he has led the way for autistic individuals who entered the workforce behind him. 
The Autism Investor Summit provides a unique opportunity for autism service providers, investors and key stakeholders to meet in a private setting to discuss the autism services landscape, opportunities for investment and to discuss and learn about best practices and innovation in all areas of autism services.
The mission of this conference is to advance autism services and the outcomes for consumers by bringing together stakeholders from all aspects of the industry- service providers, advocates, legislators, payers, consumers, investors and researchers- to meet, network, share information and understand what the future holds for the autism industry.
Attendees will get to: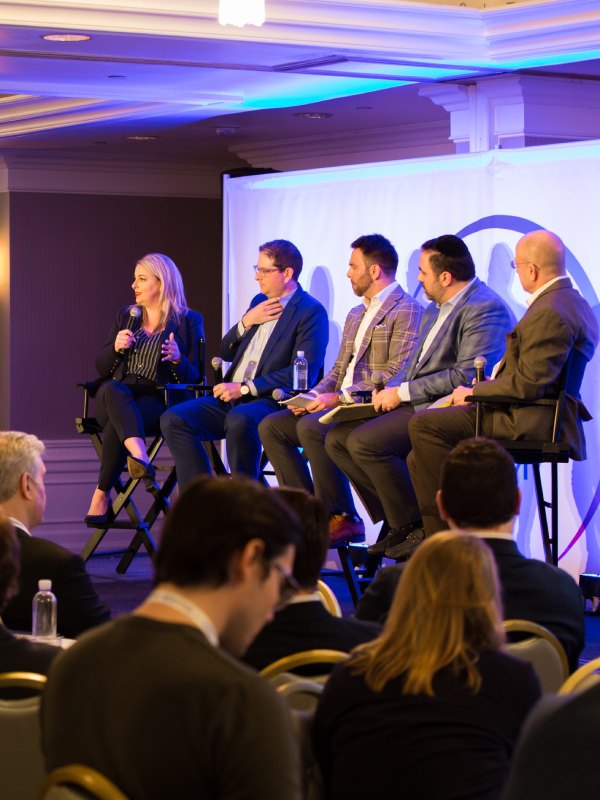 Investors are in a strong position to consolidate, expand, and create the kinds of economies of scale that are common in other sectors of healthcare, and in other industries. The autism service market is a highly fragmented marketplace with many opportunities for consolidation, favorable returns on investment and the elevation of regulation, meaningful clinical outcomes, professional development and oversight of care. Because autism treatment is a fairly new field, the industry lacks regulation and oversight. While this is a challenge when evaluating the quality of treatment centers, it's also an opportunity to implement cutting-edge treatments and technologies. It is vital that investors understand the nuances of autism services and the issues service providers face when scaling their businesses.
Important Factors in the Current Autism Provider Landscape
Welcome Reception
April 18, 2022
Welcome Reception
Meet fellow attendees while enjoying your favorite beverage. The event will focus on creating meaningful connections in small groups to facilitate networking and learning.
Sponsored by Ziegler
Keynote: Jonathan Mueller
Strengthening Organizations Culture as You Grow
Speaker: Jonathan Mueller, Ascend Behavior Partners
How do you strengthen your organization's culture as you grow?
Conventional wisdom says that the bigger an organization gets, the worse the culture gets. I disagree. Being successful scaling culture means constantly growing yourself as a leader, engaging in meaningful feedback conversations with your team, testing hypotheses, and serving as your organization's CRO (Chief Reminding Officer) of your values. I'll share the framework we've used at Ascend to strengthen our culture as we've doubled in size every year the past 4 years: the metrics we look at, the conversations we have with our team, the training, and the ways we're constantly pushing ownership of our culture to our front-line teams.
Morning Session 1: Compensation & Turnover: Implication on Industry Growth and Access to Care
Speaker: David Cox, Behavioral Health Center of Excellence
Compensation and staff turnover are two major pain points for every provider. Although they are not always strongly related, both have a tremendous impact on the financial health and sustainability of ABA organizations. The purpose of this presentation is twofold. First, we describe industry trends in hourly pay rate, salary, and annualized turnover percentage for ABA organizations completing the BHCOE evaluation process and for the staff positions of direct therapists/RBTs, case supervisors/BCBAs, and clinical directors. Second, to present data and discuss the findings of two studies wherein we attempted to predict staff turnover using data about organizational systems and characteristics. Previous research, including a recent publication from BHCOE, suggests that monetary compensation, though important, may not be the most important predictor of voluntary turnover compared to organizational factors such as career development opportunities and satisfaction with supervisory and managerial support. However, monetary compensation can influence recruitment and job satisfaction. ABA organizations can leverage the information in this presentation to understand how their company compares to the industry in average hourly monetary compensation and employee turnover rates.
Morning Session 2A: Retention and People Management
Speaker: Sarah Trautman, Defy Community
The success, or failure, of any autism business is dependent on human capital. Having an incredible clinical model or efficient systems doesn't matter if you don't have the human capital to provide services or support your operations. Cultivating a culture that prioritizes the well-being of the humans in your organization is imperative if you want to recruit and retain talent in an industry where there are NOT enough professionals available to meet current demand. This session will focus on strategies to retain talent, respond to the great resignation, and cultivate a culture of team member satisfaction.
Morning Session 2B: Fireside Chat — BHCOE & Cigna's Strategic Partnership: The Road Ahead for APM's in Behavioral Health
Speakers: Sara Litvak and Dr. Darren Sush
BHCOE & Evernorth recently announced their partnership to develop a value-based care framework for their ABA network. Through this partnership, Evernorth and BHCOE will work to establish foundational measures for ABA treatment. These measures will help patients, caregivers, providers, and health plans better assess the overall quality of delivered care, and assess patient outcomes as aligned with national health care quality standards in behavioral health.
Evernorth behavioral health clients, as well as Cigna health plan customers who receive health coverage through their employer or marketplace exchange plans, will be among the first to benefit from these standard performance metrics. This agreement comes at a critical time for ensuring access to quality services for individuals with autism. This fireside chat will explore the partnership and discuss implications for ABA organizations and the families they serve.
Morning Session 3A: Clinical Quality & Creating Sustainable Outcomes with Long-Term Results
Moderator: Dr. Ronit Molko, Learn Behavioral
Panelists
Kelly Bermingham, People's Care Behavioral Health, Redwood Family Care Network
Dr. Ellie Kazemi, Behavioral Health Center of Excellence
Katherine Wooten, New Directions Behavioral Health
Dr. Gina Chang, Autism Learning Partners
The purpose of monitoring and reporting quality outcomes is to place the focus of care on outcomes that matter to the patient and their loved ones. Although everyone agrees that measuring quality outcomes is important, there are several challenges in collecting this data and little consensus on what exactly should be measured for individuals diagnosed with autism spectrum disorders (ASD) receiving behavioral services. In this panel, we will discuss behavioral service providers' and payors' perspectives of the measures that influence quality outcomes and the logistics of monitoring and reporting such results. We will also discuss process versus outcome measures and current frameworks for assessing patient improvement because of behavioral services.
Morning Session 3B: Valuation, Due Diligence, & Compliance in a Post-Pandemic World
Moderator: Jon Krieger, Calex Partners
Panelists
Lani Fritts, Former CEO of Kadiant
Sara Litvak, Behavioral Health Center of Excellence
Olex Kaltsev, Elemy
Buyers and Sellers are at an impasse. In a COVID-inspired spiral of unknowns, there is a lack of clarity on deal flow in a post-pandemic world. Despite it all, the health care economic policy issues that have boosted a run on health care service providers remain. In this webinar, we will explore how valuations have fluctuated, diligence has shown itself and what compliance and diligence looks like today. The Coronavirus has impacted mergers and acquisitions broadly, and behavioral health specifically is no different. Whether you are content staying put or see yourself as a seller now, or in the future, (or if you're unsure which you should be), this presentation will help you set expectations.
2023 Registration Opening Soon!